Getting Started With Inline Skating
Hello everyone! I hope you are all well. Welcome back to my hobbies and leisure blog. Summer is the best time for outdoor activities, like one of my favourites: Inline Skating. It is not only fun, but it also helps to keep you fit and trains your condition. And on top of that, Inline Skating is very easy to learn.
Of course, it requires lots of practice until a skater can master impressive jumps and spectacular stunts. But the basic technique to glide leisurely over roads can be learned in a short amount of time.
The Stand
If you want to get started, some great, cheap beginner skates can be found at https://www.gebraucht-kaufen.at/inline-skates. If you want to save some money, you can also buy used ones.
Once you put on your skates for the very first time, it won't probably work right from the very beginning to get up without any help or hold, but, however, with a little practice it will soon be no longer an issue to be safe on the inline skates.
In principle, getting up and standing is like wearing normal shoes. Due to the rolls, things can feel a little bit shaky at first, but after a few attempts, you will find the right balance.
First Moves
Before you make your first moves, make sure you are equipped with proper safety gear. At least a good helmet is a must-have. Furthermore, additional protective gear is highly advisable to protect serious injuries. A good place to start with is https://www.gebraucht-kaufen.at/inline-skates-protektoren where they sell the most common safety gear like helmets and also much more. And don't buy them used or second hand, especially a helmet. You never know what happened to them in the first place.
The moves for inline skating are basically the same as for ice skating. Also the general body posture is quite similar. It is important that, while skating, the body is not completely upright. Instead, the skater hast to bend the knees slightly to go down a little bit and also lean slightly forward as well. It's like you want to sit down. This not only ensures a good balance but also enables you to force a momentum on the skates. If your knees are perfectly straight, this is not possible.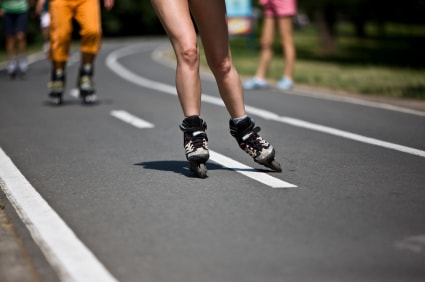 To move forward, simply push off with one foot and, at the same time, shift your weight to the other foot. This way you will make a diagonal step forward. The next step works the exact same way, only with the other leg. Here, too, the skater pushes off with one foot and moves his weight to the other one. Through this zig-zag step, the skater picks up speed and thus is able to move forward. If you have enough power, you can put both feet parallel side by side and simply roll.
How to Brake
There are a few techniques available how to brake. The most common ones are the stopper and the T-Brake. Most inline skates are equipped with brake pads, usually located at the heel. They can be mounted on ether the left or the right shoe.
To perform the simple stopper brake, you just have to put one foot a little bit forward pull the toes up and simultaneously push the heel down towards the ground. The greater the pressure on the brake pad, the greater the effect. When braking, the skater should shift his weight slightly forward. Otherwise this can lead to an unwanted rotation.
So I hope I got you curious about inline skating. If you are now ready to go and want to indulge in this amazing hobby, just visit one of my favourite shopping sites https://www.gebraucht-kaufen.at/. They offer a great variety of inline skates, both new and second hand as well as additional equipment such as spare parts as well as protective gear.
And if you want to know what is the actual difference between roller blading and inline skating, check out this article I found online at https://www.thoughtco.com/rollerblading-and-inline-skating-1963820.
Finally, if you think inline skating is not the right thing for you, just read some posts I wrote earlier about unusual hobbies and even more hobbies for adults.