Hello again folks! It occurred to me recently that we are truly lucky enough to be
living through a golden age of television. There have been so many great show over the past 20 years and especially the last 3 years that we are truly being spoiled for choice. There has always been some gems to pick out from amongst the masses of mediocrity over the years but the abundance of those gems has grown significantly over the last 2 decades. I'm going to give you a rundown of my favourite TV shows of this era.
The Sopranos
This was the TV show that first made me sit up and realise that great TV could be as equally as good as a great Movie. The Sopranos took an often dark yet comical look into the life of a fictional New Jersey Italian American Crime Family. It ran for 6 seasons and starred the sublime James Gandolfini (who sadly passed away in 2013) as the central character, Tony Soprano; husband, father and mob boss! It made completely absorbing viewing with an exceptional script, story and character development. Truly memorable television with millions of fans still to this day! Repeat viewing is a must. This is a great box set to get started with and there are plenty of second hand and used options available online. Check them out here: used Sopranos Complete DVD
The Wire
The Wire was another crime drama, this time set in the ghettos of Baltimore. It focused on the lives of both the local drug dealers and criminal gangs and that of the police personnel tasked with stopping their illegal activities and bringing them to justice. It also featured the the politicians, who more often than not hampered the progress of and used the police to further their own agendas. It also benefitted from a great storyline, script and list of actors that brought their characters to life on the screen. It highlighted the moral ambiguity of life on the streets and the quagmire that is living and surviving in such impoverished cities. It has been cited by many critics as the best television show ever made.
The Office
Written, directed, produced and acted by Ricky Gervais And Stephen Merchant, this comedy gave us a fly on the wall view of the mundanity of daily life working the average office environment in the UK. Ricky Gervais played the cringe-worthy (and now iconic) office manager David Brent and the show also launched the career of Martin Freeman who has gone on to star in many other movies and prime-time TV features. The program only lasted for 2 seasons and a Christmas Special in the UK but the rights were granted for a US version starring Steve Carrell as David Brent. A feature film starring Ricky Gervais reprising his role as David Brent has recently been announced. Gervais followed up with 3 further TV series including Extras, Life's Too Short and Derek. ( You can read more about The Office here: http://www.bbc.co.uk/programmes/b00jd68z )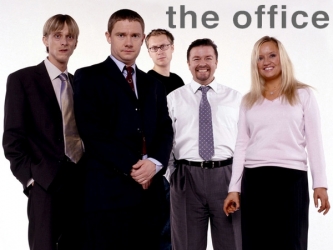 Game of Thrones
Game Of Thrones has been nothing short of a phenomenon. Based on the A Song of Ice and Fire books by George R.R. Martin, it is a medieval fantasy epic complete with sex, violence, dragons, zombies, a brilliant script and engrossing storyline. The story follows the lives and trials of the various members of the warring families of the fictional Seven Kingdoms of Westeros. We are first introduced to the Stark family followed quickly by that of the Lannisters, both of whom will soon be at war. Now in it's 6th season, Game of Thrones has been renewed for a 7th season due in 2017. It makes highly addictive viewing and has achieved cult status amongst many fans.
Mr Robot
Mr Robot TV show about a young computer hacker with schizophrenia named Elliot. Along with a group of fellow hackers (including a vision of his dead father) his aim is to bring down the world economy and wipe out the debt of the masses, effectively giving everybody a financial clean slate. But things run much deeper and far more sinister than that. Now in it's second season, Mr Robot makes for truly compelling viewing and never fails to keep you guessing. Christian Slater both stars and co-produces this dark and moody noir-drama-thriller.
These are just a small selection of some of the TV programs i have enjoyed very much over the last 20 years. There are, of course, many more but I don't have the time to go into them all in this one blog post. Maybe next time. What I will do is recommend that you find and watch any TV series created over the past 20 years by HBO. 90% make for fantastic and extremely satisfying viewing!
That's all from me for now folks. Make sure you drop me a line to let me know which of the above shows you enjoyed the most. Until next time!